Dr George Brooks arrived in Sydney aboard the vessel "David Shaw" on 16th October 1819 and was appointed to be Colonial Assistant Surgeon at the General Hospital in Sydney on the 20th November 1819, as the notice below shows.
Source: The Sydney Gazette and New South Wales Advertiser - Saturday 20 November 1819
The marriage of Dr George Brooks and Mary Stephena Cowper took place on 2nd September 1828 at St. Philip's, Anglican Church in Sydney, and was performed by Mary's father Reverend William Cowper.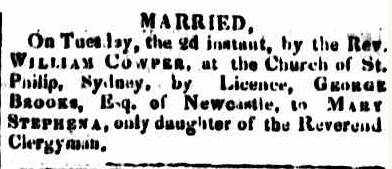 Source: The Sydney Gazette and New South Wales Advertiser - Wednesday 3 September 1828
After her marriage Mary moved to Newcastle, NSW where her husband Dr. George Brooks was posted as the Surgeon-in-charge at the Newcastle Medical Facility. Dr. George Brooks, assistant surgeon at Newcastle, obtained a grant by purchase of 320 acres from Gov. Darling in 1830. This grant today approximates an area bounded on the south by Cowper Street, west by Nelson Street, east by Robert Street and extended north to the old racecourse. Brooks later bartered 50 acres of this land for 50 head of cattle. These 50 acres formed the Lemongrove Estate and is now the main shopping centre of Wallsend. It is interesting to note here that Dr. Brooks, who was appointed to Newcastle in 1822 at a salary of 273 pounds and 15 shillings a year, and, at first, served as overseer and wards-man at the hospital remained as surgeon until 1847. He was largely responsible for the early development of Newcastle Hospital.
On the 1st September 1828, the day before her the wedding, Governor Sir Ralph Darling allocated a portion of land in the parish of Hexham, adjoining her future husbands farm to Mary to "mark my appreciation of the manner in which Mr. Cowper, who is a very exemplary man had discharged his duties and to help his daughter by removing the impediment to matrimony which appears to exist".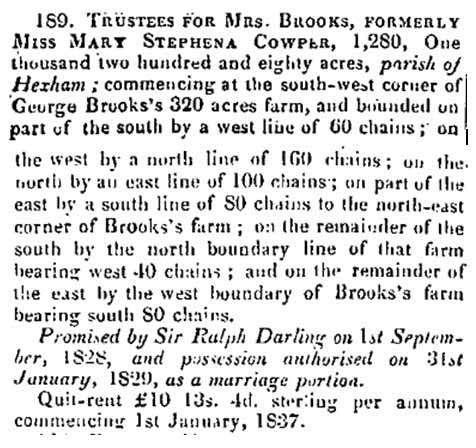 Source: The New South Wales Government Gazette – No 351 – 22 August 1838
Additional information on George Brooks can be found at these sites.
http://www.jenwilletts.com/george_brooks.htm
http://www.jenwilletts.com/1837Settlers%20Map1.htm
The family had 4 children
Hannah Euphemia Brooks, b. 1829 (married Atwill Kenrick) d. 1915
This drawing of Hannah Euphemia Brooks kindly provided by Rod Hirst (decendant via Hannah's marriage to Atwill Kenrick)
George William Brooks, b. 1832 (never married), d.1866
John William Brooks, b. 1834 (married Elizabeth Ann Collins), d. 1911
Mary Eliza Brooks, b. 1837 (married William Hampden Platt), d. 1917
Their first child was named Hannah Euphemia Brooks in recognition of Mary's mother Hannah Horner who had died when Mary was only 4 years old, Hannah later married Atwill Kenrick and named one of her children Mary Stephena Kenrick in honour of her mother, to the right is a picture of Mary Stephena Kenrick, kindly provided by Rod Hirst (Mary Stephena Kenrick married Percy Verney Hirst)

Mary Stephena Kenrick
Mrs. Mary Stephena Brooks later divided her property, "Mary Land," among her children, one portion going to a daughter who married Mr William Platt. This area, when subdivided in 1861, which was to become the Newcaslte suburb called Plattsburg which exists today. The Grant was held in trust by her brothers Henry and Charles Cowper and George Miller. The total land holdings that Mary and George had around the Ironbark Creek, Mount Sugarloaf area amounted to nearly 3,600 Acres.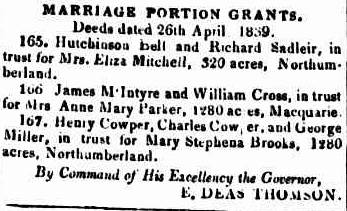 Source: The Sydney Gazette and New South Wales Advertiser - Thursday 20 June 1839
The 1280 acres of land that was granted to Mary Stephena in 1828 was resumed by the Crown on 8 November 1895.
Dr. George Brooks died on 2 May 1854, and was buried in the Christ Church Cemetery that was adjacent to Christ Church Cathedral.
Mary Stephena Brooks died on 17 April 1859, also in Newcastle, and was buried in the Christ Church Cemetery that was adjacent to Christ Church Cathedral with her husband.