Thomas managed cattle for his father William, which is confirmed by this following notice that appeared in the Sydney Gazette of 1823.


Source: The Sydney Gazette and New South Wales Advertiser - Thursday 8 May 1823
In 1825 Thomas owned property in Burragarang Valley and Stonequarry Creek area near Picton in the Wollondilly shire area which is South West of Sydney. In 1826 Thomas took on the role of Manager for the 'Broga' cattle Station in southern NSW.
During the 1820's Thomas managed many cattle enterprises, notable was the 'Clifton Station' in the Cowpastures, which he had dealings with his brother Charles and father William. At the 'Clifton Station' Thomas was assigned convict labour and was charged to deliver fresh meat to the Commissariat Offices, two such notices are available to us today which show a requirement to deliver 3,000lbs of beef to Liverpool in 1823 and 6,000lbs of fresh beef to Sydney in 1825.


Source: The Sydney Gazette and New South Wales Advertiser - Thursday 8 May 1823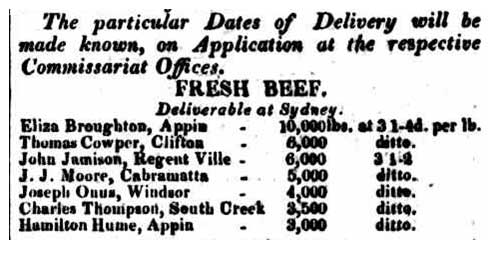 Source: The Sydney Gazette and New South Wales Advertiser - Thursday 23 June 1825
On the 8 October 1828 Thomas was proposed as a member of the Agricultural and Horticultural Society of NSW and was duly elected a member at the Society's AGM in Parramatta, held the same day.
In 1830 the farm of 'Clifton' in the Cowpastures (Camden) was put up for lease, Thomas was living on the property at the time and Charles his brother represented the owners being the Church and Schools Lands Corporation.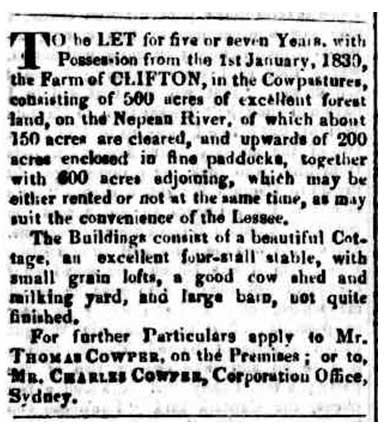 Source: The Sydney Gazette and New South Wales Advertiser - Tuesday 13 October 1829
Thomas was still receiving an allocation of Convict labour in 1833 for the Clifton farm at Cowpastures which would indicate that he continued to lease or manage the property, whilst also having duties as Manager of the 'Tarraganda Station' (which was owned by his brother Henry Cowper) in 1830 and in 1839 as Manager of 'Yowri Station' both of these farms were also in southern NSW. Also in 1839 he purchased his own Station known as "Ballalaba", which comprised of 1420 Acres in the Tallagandra Shire of NSW.
Thomas was appointed to be a Commissioner of Crown Lands on the 22 February 1838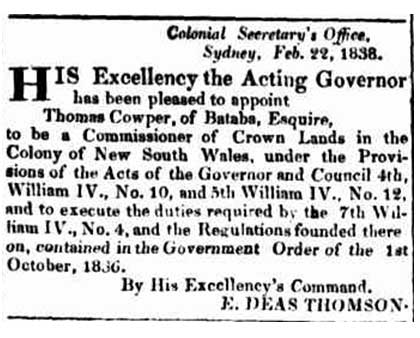 Source: The Sydney Gazette and New South Wales Advertiser - Saturday 3 March 1838
He is also known to have assisted his brothers Henry and Charles on their properties. In March 1844 Thomas was declared Insolvent along with his brother Henry due to the dealings of the Tarraganda property – Thomas being a Trustee for the property. It's fairly certain he stayed on in the general area between Goulburn and Campbelltown until around late 1849 managing his duties as a Pastoralist.
Change of Life
Then in January 1850 a major event in Thomas life occurred, either due to a family fall-out with his father or a 'sole searching' exercise. Thomas left Sydney aboard the vessel "Orator" sailing to California on 28 January 1850, from California. Thomas then travelled to Panama where his stayed for 10 months and arrived back in San Francisco from Panama on the 15 November 1850.
On the 16 November 1850, Thomas wrote a letter to his father William, which gives us perhaps the reason for his trip…..
….. I have not been extinguished in anything and at Panama I could not get nothing to do, nor could I sell the horses I took over earlier to pay Cap ? for the freight – so I was obliged to give then over to him…..
…… I am completely exhausted – I have had a good deal of time to think of my past life and if I do return I hope you will find me something differing – but I am afraid to say, I have not had a single line from any of you since I left..
Give my love to all and believe me…
A small sample of the Letter….

The letter gives us considerable food for thought, Thomas was clearly out of sorts with his father William and perhaps had to learn a 'life lesson' before returning to Sydney and settle down and take on respectable stations in life. Thomas was 48 when he went to Panama – unmarried and perhaps with no purpose or goal in life – on his return his life was to take a new direction. Thomas, from the letter, did not have an easy time of it in Panama with no work and unable to sell the horses to pay his way. In San Francisco he was able to find work, we can assume, as he returned to Sydney on 29 April 1851 aboard the vessel "Mercury".
Whilst in San Francisco Thomas had the following sketch drawn, which dates to 1850.
It is believed he moved to the Grafton District around this time. He is known to have been in the Maclean, Woodford Island and Tyndale areas, and was apparently Manager of the Small family properties at Summervale and Maryvale Stations on the lower Clarence – where he was doing the books. It is believed that whilst there he met Eliza Small, a daughter of John & Elizabeth Small. He married Eliza on 24 January 1853, at "The Usual Place of Public Worship", on Woodford Island.
His marriage to Eliza who was 26 years his junior resulted in four children,
Henrietta Elizabeth Harriet Hannah Cowper, b. 1855 (married John Joseph Hough)
Mary Eliza Matilda Cowper, b. 1858 (married Edward Richard Powell)
Spelmana Rebecca Cowper, b. 1860 (never married, but had two children who carry the Cowper surname)
Ada.Rose Cowper, b. 1863 (married Alfred George Greentree)
All but Ada were born in the Grafton area, and Ada was born at Tenterfield.
Thomas then moved the family to Tenterfield, where he was Appointed as a Police Magistrate, and a "Guardian of Minors".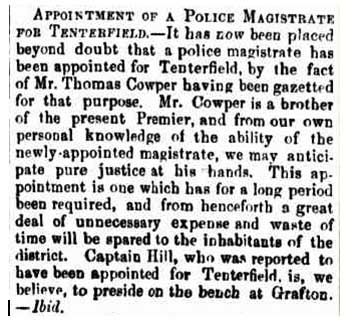 Source: Courier (Brisbane, Qld.) - Saturday 8 March 1862
There are several references of his presence at "Pikedale" which is just north of Tenterfield. He later moved back to the Grafton area where he was appointed a School Teacher at the Anglican School at South Grafton, and later as School Master at Tyndale Government School. Thomas Cowper wrote the minutes of the first Grafton council meeting He was also appointed as the first Town Clerk of Grafton. Thomas moved to Tyndale and took up the position as the first teacher for Tyndale.
Thomas remained at Tyndale until his retirement in 1882, due to ill health, and old age.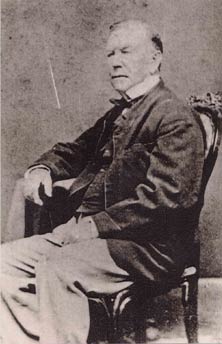 Thomas Cowper died in his residence at Tyndale on 15 June 1883, and was buried on 16 June 1883 in the Anglican Section of the Maclean General Cemetery. His wife Eliza died on 7 April 1907 at Casino and is buried in the Anglican Section at the Casino General Cemetery.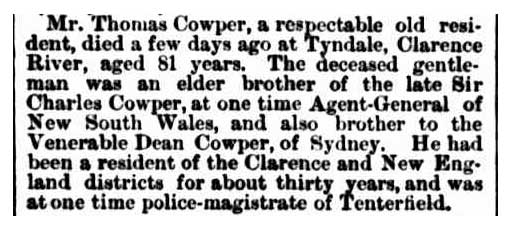 Source: The Brisbane Courier Friday 6 July 1883