Birth:
26 April 1807, Drypool, Yorkshire, England.
Death:
19 October 1875, London, England.
Religious Influence:
Anglican
Occupation:
Pastoralist
NSW Premier
Marriage:
08 October 1831, Parramatta, NSW, Australia
Married:
Eliza Sutton
---
Descendant Families:
Cowper Family
Robison Family
Wood Family
Sir Charles Cowper, Pastoralist and NSW Premier


Charles Cowper was the third son of William and Hannah Cowper, née Horner, born on 26 April 1807 at Drypool, Yorkshire. England, where his father was commencing studies for Ordination into the Church of England, after having recently been discharged from the North Yorkshire Militia. The acceptance of the position of Assistant Colonial Chaplain by William resulted in the sailing of the family (three sons; Henry, Thomas, Charles and a daughter, Mary Stephena and William's second wife, Ann) aboard the brig 'Indispensible'. The family left Portsmouth, England on 02 March 1809 arriving in Sydney on 18 August 1809.
Educated privately, he entered the Commissariat Department in 1825 at age 18 and he was appointed Clerk of Corporation of the Church and Schools Lands Corporation on the 27 April 1826 and served until 1833.

Source: The Sydney Gazette and New South Wales Advertiser - Wednesday 17 May 1826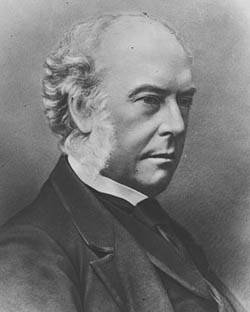 Sir Charles Cowper
(1807 - 1875),
by unknown photographer,
courtesy of the State Library of New South Wales.
GPO 1 - 1841

As an official he was granted 1280 acres (518 ha) in the County of Argyle in 1827 and a further 1280 acres (518 ha) in 1830.
During this period he was appointed Clerk to the Commissioners for managing the Affairs of the Church and School estates on 6 April 1831.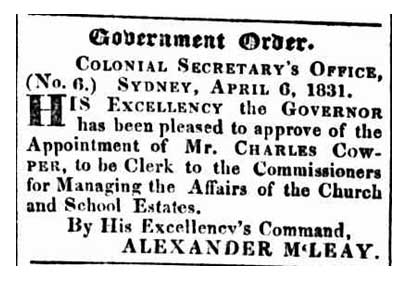 Source: The Sydney Gazette and New South Wales Advertiser - Saturday 9 April 1831
Then on Saturday 8 October 1831 the then 24 year old Charles Cowper was married by his father William at St John's Church, Parramatta to Eliza Sutton, daughter of Daniel Sutton and Edith Ann Richardson from Wivenhoe, Essex, England.

Source: The Sydney Gazette and New South Wales Advertiser - Tuesday 11 October 1831
Charles and Eliza went on to have a family of 7 children,
Charles, b 1834, d. 1911 who followed in his father's footsteps by also becoming a member of the NSW parliament and progressed to become Sheriff of NSW his career can be viewed at the following link.

William Harington, b. 1836, d. 1856 (in England whilst a student of Kings College, London – a memorial to him can be found at St Paul's Church, Cobbitty)
Eliza Hannah, b. 1837, d. 1838 (Died as infant)
Charlotte Eliza, b. 1838, d. 1875 (married Hugh Robison)
Mary Sophia, b. 1840, d. 1912 (married Edmund George Lethbridge Wood)
Rose, b. 1844. d. 1920 (Who never married, and lived in Kent, England)
The family also had a stillborn daughter in 1842 who was not named.
Two years later in 1833 the Church and Schools Land Corporation was dissolved and he declined another official post. Charles then farmed in Argyle, living as a country gentleman and interesting himself in sheep breeding, whilst also undertaking a very successful career in the NSW Parliament starting on the 1 Jul 1843 which at its pinnacle had Charles become the NSW Premier until accepting the post of Agent-General for New South Wales in London on 6 December 1870.
By 1852 he had acquired by grant or purchase large estates in Argyle and town allotments in Goulburn. As a tenant of the Crown he held nearly 20,000 acres (8100 ha) in Argyle and 47,000 acres (19,020 ha) in the Lachlan pastoral district and also owned land in what is now northern Victoria, 'Corryong' station, which later gave its name to the township. In addition he owned "Wivenhoe", 900 acres (364 ha) at Camden Park, which was named after his wife's home town back in England, and had interests in Sydney real estate., Charles also had interest in 'Clifton' at Cowpastures which was owned by his father William, Thomas his brother also had interests.
Career Highlights
Charles Career was extensive and is summarised below.
Secretary of the Church and Schools Lands Corporation on 27 April 1826 until 4 February 1833
Clerk to the Commissioners for managing the Affairs of the Church and School estates on 6 April 1831
Appointed Territory Magistrate on 4 May 1839
Elective Member of the Legislative Council for the periods 1843-1848, 1848-1850 and 1851-1856
See Parliament link for Sir Charles Cowper and State Library link for Sir Charles Cowper
First Manager and President of the Sydney Tramway and Railway Co. in 1849, and held the post until 1853. (Charles is arguably remember by many as 'The father of the NSW railways)
Chairman of the Denominational School Board on 18 April 1856
In June 1859 Charles Cowper moves in the Assembly that the Government of New South Wales purchase the flock of Alpacas imported by Mr Ledger (for £15,000) who having been unable to sell them was being forced to re-export the Alpacas - from this stock the Alpaca trade in Australia has grown - Charles Cowper can perhaps be looked as the person who helped start the trade in Alpacas in Australia
Administrator of NSW on 16 June 1859
MLA in NSW from 1856 to 1870
Held combined positions of Premier and Colonial Secretary for the periods, 26 August 1856 to 2 October 1856, 7 September 1859 to 26 October 1859, 10 January 1861 to 15 October 1863, 3 February 1865 to 21 January 1866, and from 13 January 1870 to December 1870
Premier from 7 September 1857 to 6 September 1859
Colonial Secretary from 9 March 1860 to 9 January 1861 and again from 27 October 1859 to 8 March 1860.
Vice President and Trustee of the Savings Bank of New South Wales from 15 October 1857 to 19 January 1860
He introduced the "Torrens Title" system of Land Titles into NSW on 15 October 1857.
Companion of the Most Distinguished Order of Saint Michael and Saint George (C.M.G.) on 23 June 1869, and was Knighted K.C.M.G. on 19 February 1872
Agent-General for NSW in London from 6 December 1870
Sir Charles Cowper remained in London until his death on 19 October 1875 at Eldon Road, Kensington, and was buried with his son William Harington Cowper and daughter Rose Cowper in the Highgate Cemetery (West Cemetery), London.
The Headstone Inscription reads. "Sir Charles Cowper KCMG, born 26 April 1807, died 1875"
His wife Eliza died on 17 January 1884 at "Carlsruke", near Bowral, NSW, and is buried in the Cowper family vault at St Paul's, Cobbitty, NSW.


Source: The Times, Thursday, Oct 21, 1875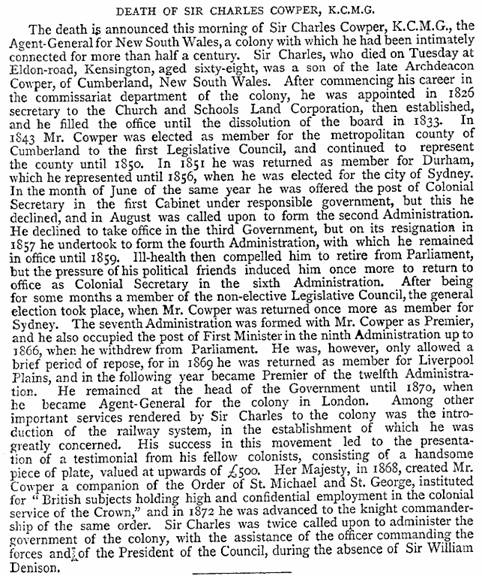 Source: The Pall Mall Gazette (London, England), Thursday, October 21, 1875
Additional commentary can be found about Sir Charles Cowper at the following links, including that of Charles Cowper jnr.
Australian Dictionary of Biography
http://adbonline.anu.edu.au/biogs/A030447b.htm (Charles)
http://adbonline.anu.edu.au/biogs/A030448b.htm (Charles Jnr)