Birth:
3 July 1810, Sydney, New South Wales, Australia
Death:
14 July 1902, Sydney, New South Wales, Australia
Religious Influence:
Anglican
Occupation:
Clergyman
Married:
27 August 1835, Dartmouth, Devon, England.
Marriage:
Margaret Burrough (1st)
Mary Forster (2nd)
---
Descendant Families:
Cowper Family
Ford Family
Callaghan Family
White Family
Very Rev. William Macquarie Cowper, Dean of Sydney


William Macquarie Cowper was the only child of William and his 2nd wife Ann Cowper, née Barrell, born on 03 July 1810 at Sydney, New South Wales, where his father was the Assistant Colonial Chaplain. Governor Macquarie and Mrs Macquarie were among his godparents.
William Macquarie, who was known simply as Macquarie or Mac until he turned 21, was educated privately at Sydney and sailed for England by way of Cape Horn on the 'Portland' in 7 February 1827.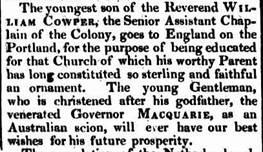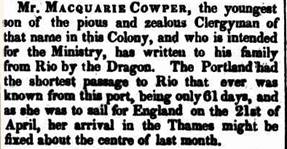 Source: The Sydney Gazette and New South Wales Advertiser- Wednesday 7 February 1827 & Friday 13 July 1827

Portrait of William Macquarie Cowper, Dean of Sydney,
National Library of Australia
He reached England in June, intending to study for entrance to Cambridge. After a change of plan he lived with Rev. John Glubb, incumbent of St. Petrox, Dartmouth, and helped him as a layman until he matriculated at Oxford on 11 June 1828 and entered Magdalen Hall (B.A., 1832; M.A., 1835). Cowper thought the tutorial instruction dull and, as his father had warned, found the religious life of the university 'at a low ebb', though he gained some profit from the divinity lectures. Bishop Murray of Rochester ordained William Macquarie Deacon on 8 September 1833, and was ordained Priest by Bishop Phillpotts of Exeter on 26 October 1834, and was given the title of Assistant Curate of St. Petrox. William Macquarie remained at Dartmouth for two years, strengthening his connection with Evangelical tradition. When he decided to return home, no regular preferment was available and he was appointed Chaplain to the Australian Agricultural Co.
He married Margaret Burrough of Dartmouth on the 27 August 1835 at St Saviour's Church, Dartmouth, Devon. The ceremony was performed by Margaret's father Rev. James Walrond Burrough.
When William arrived back in Sydney aboard the "Platina" on 17 February 1836 with his new wife he took up his station on the 26 March 1836 as Chaplain with the Australian Agricultural Co in the Port Stephens area and remained their Chaplain for the next 20 years.
William Macquarie Cowper and his wife Margaret had 6 children,
William, b 1836, (who married Anna Henrietta Brownrigg), d. 1868
Elizabeth Jane, b.1837, (who died as a infant, aged just 3 months 1838)
Margaret Louisa, b.1840, (who married John Thomas Ford), d. 1913
Harriet Anne, b. 1842, (who married William Callaghan), d. 1936
Eliza Jane, b.1844, (who married Robert Hoddle Driberg White), d. 1927
Matilda, b.1845. (who never married), d. 1938
One of the witnesses at wedding was Margaret's sister Jane Burrough, who it is thought is the reason for the middle name of Jane in two of William and Margaret's daughter's names.
On 21 October 1854 tragedy struck the family with the untimely death of Margaret at the age of 48 at St John the Evangelist Parsonage, Stroud.
William Macquarie was to later marry Mary Forster, daughter of Commander George Brooks Forster and Elizabeth Ann Smith, and widow of Major John French H.E.I.C. (1805 - 1859) and widow of Lieut. George Fortescue, RN (c1808 - 1838) on the 03 July 1866 at St Philip's Church, Sydney, becoming a step-father to Mary's children.
Mary Sarah Fortescue, b.1837, d. 1910 Sydney
George Fortescue, b. 1838, d. 1885 Sydney
John Russell French (later Sir), b. 1847, d. 1921 Sydney
Clara Elizabeth French, 1848, d. (The Cowper named was used with her daughter Katie Cowper Morris, b 1883)
Edith French, b. 1850, d. 1914, Sydney
Georgina Russell French, b. 1852, d. 1943 Wellington, New Zealand
Arthur John Forster French, b. 1854, d. 1945 Melbourne
Kate French, b 1856, d. 1933, South Australia.
Soon after his father's death in 1858 William Macquarie moved to his father's church of St Philip, Sydney, and was made Dean and Archdeacon of Sydney. William Macquarie decanal responsibilities were nominal at first and he remained at St. Philip's. The parochial charge of St Andrew's temporary Cathedral was held by the existing incumbent, Rev. George King, who considered his rights to be invaded by the creation of a Deanery, while the congregation was afraid of losing its autonomy. King's successor, Rev. Thomas O'Reilly, kept the peace from 1863 until William Macquarie took full charge in 1869.
Meanwhile Dean Cowper became responsible for services of a 'Cathedral' character, including the consecration of the permanent St Andrew's in 1868. Until Bishop Alfred Barry's reforms in 1885 Dean Cowper maintained a prudent balance of Parish and Cathedral-style worship and divided his attention between preaching to diocesan audiences and ministering to the parochial needs for which his direct scriptural exhortations were, perhaps, better suited.
In the 1870s St Andrew's parish had some fine houses but many of Sydney's worst slums. Dean Cowper worked hard to help their inhabitants and gave evidence on their behalf before Parliamentary Committees and official commissions. He exerted constant pressure on reluctant aldermen, some of them owners of slum properties, to effect improvements. He was never popular at the Town Hall; his methods with the poor were gentler and based on charitable relief and religious persuasion. He co-operated in interdenominational mission and philanthropic work in Sydney. Christian Socialism, on the other hand, meant little to him - his views were the ideas of an earlier generation.
As the diocese's only Archdeacon until 1887 Dean Cowper undertook considerable administration and supervision responsibilities, including visiting settled parishes and missionary areas. In 1859 he was given charge of diocesan relations with the Denominational School Board and after 1866 continued this duty with the Council of Education. Dean Cowper was an advocate of church schools supported by state aid, he concurred with Barker in holding that they provided the best kind of education. Dean Cowper favoured the maximum use of facilities provided for religious instruction in public schools both before and after the 1880 Public Instruction Act, and was a keen promoter of Sunday schools. He tried with little success to keep these schools in existence when State Aid ceased in 1882.
When the seat of Sydney was vacant or the bishop absent, Dean Cowper acted as Commissary or sometimes vicar-general. Between 1862 and 1897 he administered the Diocese for a total of eleven years. He presided twice over the election of Bishops: Barry in 1882-83 and Saumarez Smith in 1889-90. Dean Cowper's experience and general popularity made a substantial long-term contribution to the running of the Diocese.
In his last years William Macquarie became a revered and respected figure throughout Australia and within the Church of England. He was the first Australian-born Anglican clergyman and, apart from visits to England in 1876 and 1886, he served in New South Wales for more than sixty years. At his death he was one of few surviving paid Colonial Clergy. He represented the oldest theological tradition in the Colonial Church and in 1901 wrote his Autobiography and Reminiscences.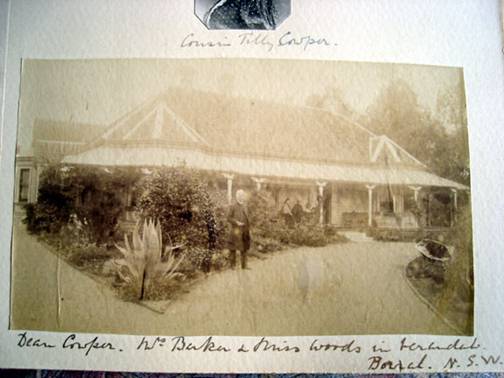 His second wife Mary predeceased him and died on 7 July 1894 at The Deanery, St. Philip's Church Sydney.
Dean Cowper himself died, after a long illness but still in office, at Midnight on 14 June 1902.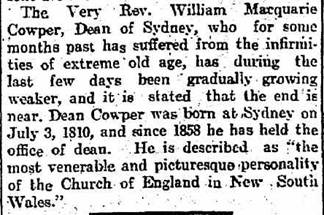 This article published in the Adelaide Advertiser on the 28th March 1902 shows that he was suffering for some months already by March until is death in June.